Discussion Starter
·
#1
·
It's not that I think a single speed bike needs to have any utility beyond being fun to ride but sometimes you just want to multitask. For many hip young urban singlespeeders (...or so I hear; I'm neither hip, nor young, nor urban) improved efficiency in beer consumption is a secondary goal of owning a bike. With that in mind I decided to weld up a front rack to aid in this pursuit.
These pictures are of the rack in primer and only test fitted onto the bike. I will be spraying the rack with black "truck bed liner" and getting it on a bit straighter. I'll also be riding it to the liquor store to pick up a full six pack as the test pack is empty.
The construction is welded steel angle iron and steel rod with U bolts to attach to the handlebars and micro-u bolts (from cable clamps) used to adjust the platform height and level. Total cost was about $20 in materials and about 2 hours of labor. I am considering pop-riveting a piece of plastic onto the base of it so it can be used to transport something other than booze but we'll see if that ever happens.
Comments, questions, or snark about what kind of beer I drink are all welcome.
The rack.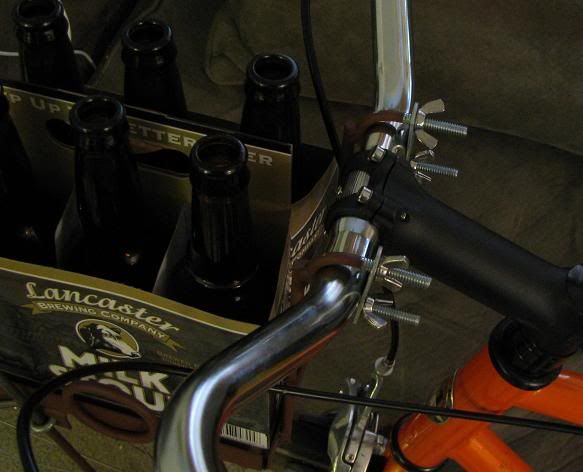 U bolts attach the rack to the handlebars.
Washers welded to the upright supports.
With no solid platform, this rack does little but support a 6-pack.
I attempted to get a closeup showing the micro-u bolts and how they allow the rack to be adjusted. Sorry so blurry.