Discussion Starter
·
#1
·
So... Who is gardening this year? Veggies, flowers, even grass (I mean your lawn, stoner!) whatever you grow- tell us about it.
I am very excited about this years garden as I have doubled the size of my growing space and this will allow me to grow a lot of stuff I was previously unable to. Potatoes, corn, more variety of summer and winter squash, several types of melons, etc.
I also have added some new mechanization to the garden to compliment my front tine tiller. I picked up a 1962 Simplicity Model W walk behind tractor. Walk behind tractors are just what they sound like- motorized machines that push/pull/power agricultural implements but rather than having 4 wheels and riding on them, they have 2 wheels and handlebars and you walk behind them. This style of tractor was very popular in the post-WWII era but had all but disappeared by the late 60's. David Bradley [from Sears] and Gravely were probably the two most popular manufacturers of walk behinds but dozens of companies made them over the years. I have a furrowing plow and a 10" moldboard plow that I modified to work with this tractor. I am also working on modifying a snow-blower auger to fit the front for winter but I'll save that for a different post. My tractor is powered by a B&S Model 19 engine, all cast iron and putting out about 7.25hp and the whole thing (with weights) weighs in at ≈450lbs. The motor is matched to a 3-speed+reverse transmission and the axle has a positive traction differential to make it easy to turn while preventing the tires from spinning while playing in the dirt. In first gear it only goes about 0.6mph but it produces a scary amount of power to rip that plow through the dirt. I love old stuff and I'm amazed that after 50 year this thing still runs and does work almost as well as when it was new. I only hope to be able to do that much work @ 50.
Here I am plowing the garden. Yes, I am that bald.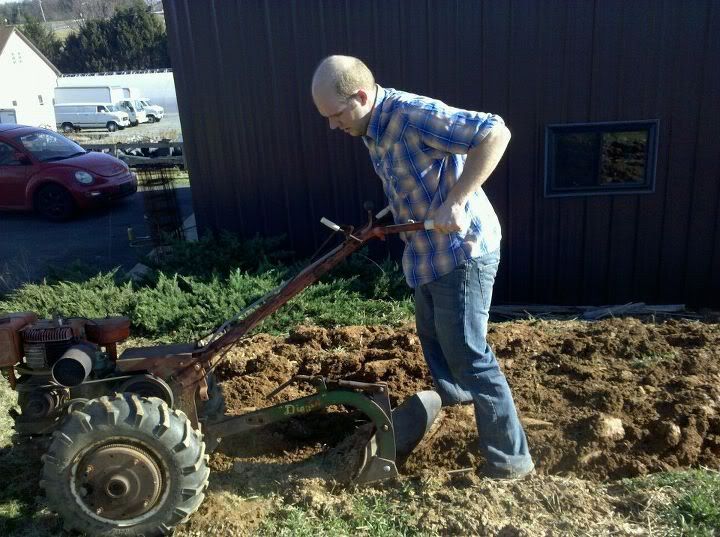 Back to the gardens though...
I've got two bed that add up to roughly 1200²ft total garden bed space for veggies. One will have crane melons and watermelons, 4 varieties of cucumbers, 3 types of zucchini (with 2 plantings to extend the harvest), yellow crookneck squash, 3 varieties of potatoes, butternut and spaghetti squash, and some pie pumpkins. Also rounding out this bed are leeks, shallots, garlic, and okra.
The second bed is for between six and eight varieties of tomatoes including 6 San Marzano paste tomatoes for making sauce. A purple and a green variety of tomatillos for salsa. Seven varieties of peppers from (million scovel) Bhut Jolokias, habaneros, jalapenos, and Thai chilies plus the more tame bells, poblanos, and sweet banana peppers. Three varieties of eggplant including long purple, dwarf turkish orange, and another variety I've been working on trying to get a sustainable mutation in that causes double fruits.
Rounding out my gardening efforts for the year are my perennial, fruit, and grain crops. We have unknown heirloom blueberries, concord grapes, gooseberries, raspberries, asparagus, and horseradish. The neighbors have a 30x100 strawberry bed that we have free access to. I'll be planting a 10x10 bed with sweet corn if I can keep the deer out of it! If I can find a spot to put them I'm also trying to grow some broomcorn (actually a type of sorghum) because I think making a broom could be a fun craft project.
But enough about my gardening, what are you growing this year?!